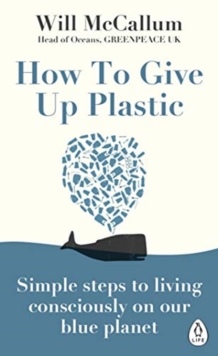 How to give up plastic : a guide to changing the world, one plastic bottle at a time
0241388937 / 9780241388938
General (US: Trade) Learn More
Professional & Vocational
Tertiary Education (US: College)
Reprint. Originally published: 2018.
'We have a responsibility, every one of us' David AttenboroughAround 12.7 million tonnes of plastic are entering the ocean every year, killing over 1 million seabirds and 100,000 marine mammals.
By 2050 there could be more plastic in the ocean than fish by weight. But how can YOU make a difference?This accessible guide will help you make the small changes that make a big difference, including:* Using a wash bag to catch plastic microfibers* Replacing your regular shampoo with bar shampoo* How to throw a plastic-free birthday partyPlastic is not going away without a fight.
This is a call to arms - to join forces across the world and end our dependence on plastic. #BreakFreeFromPlastic
BIC:
JF Society & culture: general, JPSL Geopolitics, PSAF Ecological science, the Biosphere, PSVW73 Marine & freshwater mammals, RNA Environmentalist thought & ideology, RNH Waste management, VSZ Green lifestyle & self-sufficiency