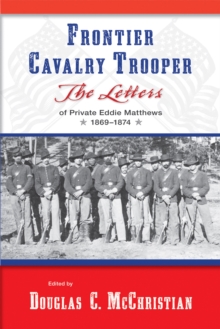 Frontier Cavalry Trooper : The Letters of Private Eddie Matthews, 1869aEURO"1874
0826352278 / 9780826352279
152 x 229 mm 432 pages, 20 halftones, 3 maps
During his five years in the army, Private William Edward Matthews wrote a series of exceptionally detailed and engaging letters to his family back home in Maryland describing his life in the Arizona and New Mexico Territories.
His letters, published here for the first time, provide an unparalleled chronicle of one soldier's experiences in the garrison and in the field in the post-Civil War Southwest. Matthews's letters record a vivid chronicle of day-to-day life in the frontier regulars.
Included are operational details in his company, candid observations of people and places, intimate views of frontier society, and personal opinions that probably would have been forgotten or moderated had he recorded his experiences later in life.
Matthews probably did not realize until much later that he was not only a witness to the nation's rapid westward expansion but was himself a tiny cog in the machinery that made it possible.
BIC:
1KBBW Western & Pacific Coast states, BJ Diaries, letters & journals, HBJK History of the Americas, HBW Military history