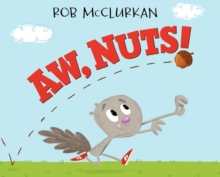 Aw, Nuts!
0062317296 / 9780062317292
Usually dispatched within 2 weeks
223 x 276 mm, 380 grams 32 pages
Squirrel sets off on a chase after the perfect acorn in debut author-illustrator Rob McClurkan's picture book Aw, Nuts!
With bold, graphic art, Squirrel will have young readers laughing out loud on every page, eager to find out what will happen next. Squirrel loves acorns, so when he spots the perfect one, he must have it!
But it bounces away...So he jumps into a taxi, but the taxi runs out of gas.
Aw, nuts! He bounces on a pogo stick, but it lands in a hole. Aw, nuts! He hops on a boat, gets shipped away, hitches a ride on a little girl's bike, and more!
Will Squirrel be able to catch up to the most delicious acorn ever?
BIC: