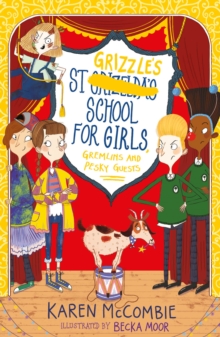 St Grizzle's School for Girls, gremlins and pesky guests
1847159265 / 9781847159267
Stock expected by 01/11/2021
20 cm 213 pages : illustrations (black and white)
Title appears as St Grizelda's School for Girls, gremlins and pesky guests with Grizelda's scored out and replaced with Grizzle's.
When a flood closes the village school, Lulu invites the staff and pupils to come and join them at St Grizzle's.
Dani and her friends can't believe their bad luck - it was awful enough bumping into Spencer and his cronies in the village but now they've got to share lessons with them.
Before long pupils are clashing with pupils, there are pranks aplenty and even the teachers aren't getting along.
Rehearsals get underway for the school show but with tempers fraying it's soon looking like a big failure.
Determined that the show will go on, Lulu calls on Dani and co, as the oldest children in the school, to set a good example and make friends.
But with Spencer up to his usual tricks, can the two rival groups put aside their differences long enough to turn a disaster into a triumph?
This warm, funny series based in the maddest of mad boarding schools, is perfect for fans of SCARLET AND IVY and A MURDER MOST UNLADYLIKE. "Fizzing with mayhem" - Sally Morris, The Daily Mail
BIC:
YFQ Humorous stories (Children's / Teenage), YFS School stories (Children's / Teenage)