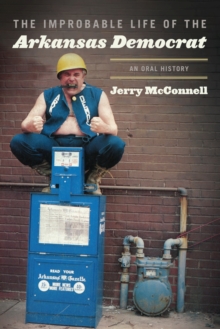 The improbable life of the Arkansas Democrat : an oral history
1557286868 / 9781557286864
Stock expected by 10/10/2021
23 cm 200 pages : illustrations
The Improbable Life of the Arkansas Democrat collects over one hundred interviews with employees of the Democrat, including editors, report- ers, feature writers, cartoonists, circulation managers, business manag- ers, salespeople, pressroom managers, typesetters, and others, from the 1930s through the early 1990s, when the Democrat took over the Arkansas Gazette after an aggressive newspaper war. This new addition to Arkansas journalism history provides vivid details about what it was like to work at the old Democrat.
August Engel, who led the paper with focused devotion for forty-two years, was famous for his thrift, allowing no air conditioning in the newsroom, and paying sub-par wages.
In spite of these conditions, there are tales here of dedi- cated journalism professionals endeavoring to do good work. Readers who remember the final acrimony between the two papers may be surprised to learn that for many years the Democrat and the Gazette owners operated under a tacit agreement of civility.
The papers didn't hire each other's staff, for example, and when a fire broke out in the Gazette pressroom, Democrat management offered the use of its press.
Staffers recall that when the Gazette struggled with an advertising boycott and reduced circulation during the Little Rock Central High cri- sis because of its perceived progressive editorial stance, which infuriated many Arkansans, the Democrat did less than it might have to capitalize. The eventual newspaper war saw the end of any semblance of civil- ity when the Democrat hired an aggressive and infamous managing edi- tor named John Robert Starr who began giving away classified ads, print- ing more news, and changing publication from evening to morning. Through these firsthand stories of those who lived it, The Improbable Life of the Arkansas Democrat tells the story of how the number-two paper became the unlikely number one, forever changing not only Arkansas journalism but also Arkansas history.
BIC:
DNJ Reportage & collected journalism, JFD Media studies, KNTJ Press & journalism