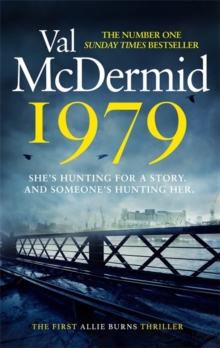 1979
075158309X / 9780751583090
THE FIRST IN A THRILLING NEW SERIES FROM THE QUEEN OF CRIME, AND AN INSTANT SUNDAY TIMES BESTSELLER'McDermid is at her considerable best' GUARDIAN The shadows hide a deadly story . . . 1979. It is the winter of discontent, and reporter Allie Burns is chasing her first big scoop.
There are few women in the newsroom and she needs something explosive for the boys' club to take her seriously. Soon Allie and fellow journalist Danny Sullivan are exposing the criminal underbelly of respectable Scotland.
They risk making powerful enemies - and Allie won't stop there. When she discovers a home-grown terrorist threat, Allie comes up with a plan to infiltrate the group and make her name.
But she's a woman in a man's world . . . and putting a foot wrong could be fatal. __________'A brilliant novel by a supremo of the genre at the height of her powers.
A cast of engaging new characters promise to make this an unmissable new series' PETER JAMES'Remarkable and compelling . . . the Queen of Crime has delivered another masterpiece' DAVID BALDACCI'Val McDermid is the absolute QUEEN.
Allie is a fabulous character, I'll go wherever she takes me and I'm dying to see what she does next' MARIAN KEYES'Packed full of Val McDermid's trademark brilliance, 1979 is a thrilling snapshot of a fascinating era' JANE HARPER'Unrivalled.
Unmissable. Unforgettable. 1979 is Val McDermid at her nail-biting, heart-rending best' CHRIS WHITAKER'McDermid was a newshound at the time and it shows . . . Her best book in years' THE TIMES, BOOK OF THE MONTH'Allie Burns is off to a flying start, and well worth following down the decades' THE SCOTSMAN'A brilliant thriller, as well as a perfect snapshot of the social and political issues of the time' LINWOOD BARCLAY'A new series from Val McDermid promises to be an event - and 1979 delivers.
Full of wit, thrills and incisive social observation and features a marvellous new character to follow through the years to come' MICK HERRON'Absolutely fantastic.
I have been reading Val McDermid for twenty-five years, so I am really saying something when I tell you I enjoyed this novel the most' CHRIS BROOKMYRE'The good news is that this excellent novel marks the start of a new series' GUARDIAN 'Brilliant characters, masterful plotting and a pitch-perfect evocation of the heyday of newspapers.
I loved it' CHRIS HAMMER'McDermid can do edge-of-seat suspense better than most novelists . . . An excellent opener to what promises to be an outstanding series' SPECTATOR'A gratifyingly multi-faceted character' FINANCIAL TIMES'The work of a writer at the peak of her powers' HERALD'The fast-paced storytelling flows irresistibly' IRISH TIMES'Riveting' DAILY EXPRESS'A sensational novel.
A surefire bestseller from one of Britain's most accomplished writers' SUNDAY EXPRESS'A nail-biting new series' OBSERVER
BIC: