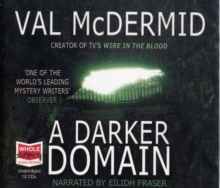 A Darker Domain (Unabridged ed)
1407434233 / 9781407434230
Usually dispatched within 2 weeks
This is a superb psychological thriller from bestselling author Val McDermid that mixes fiction with one of the most symbolic and exceptional moments in recent history - the national miners' strike.
It's 1984. The miners' strike is dividing the country. In a struggling coal-mining town, the miners and their families are living at the edge of their resources.
On the 14th of December, five miners break ranks to travel to Nottingham and work.
For those who stay behind, this is an unforgivable betrayal.
Twenty-three years later, a young woman is asking the police to trace her missing father.
Miner Mick Prentice vanished, never to be seen again.
Soon, DI Karen Pirie and DS Phil Parharta find themselves investigating a forgotten disappearance.
This recording is unabridged. Typically abridged audiobooks are not more than 60 per cent of the author's work and as low as 30 per cent with characters and plotlines removed.
BIC: