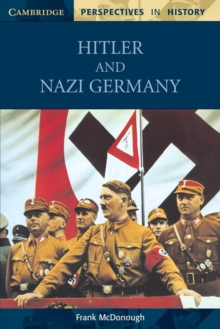 0521595029 / 9780521595025
Frank McDonough provides an authoritative, balanced and up-to-date study of Nazi Germany from 1933 to 1945.
His text offers a refreshing perspective on the period, by shifting the central focus away from Hitler the man onto his role in the broad socio-economic, political and cultural developments of the period.
Among the developments and issues explored are the relationship between the Nazi state and the economy, the impact of the Nazi regime on German society and culture, Nazi foreign policy and Hitler's role in the Holocaust.
Hitler and Nazi Germany contains a range of primary sources with questions.
BIC:
1DFG Germany, 3JJG c 1918 to c 1939 (Inter-war period), 3JJH c 1939 to c 1945 (including WW2), 4KL Designed / suitable for A & AS Level, HBJD European history, HBLW 20th century history: c 1900 to c 2000