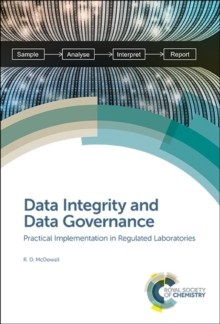 Data integrity and data governance : practical implementation in regulated laboratories
178801281X / 9781788012812
Stock expected by 06/06/2020
Data integrity is the hottest topic in the pharmaceutical industry.
Global regulatory agencies have issued guidance, after guidance after guidance in the past few years, most of which does not offer practical advice on how to implement policies, procedures and processes to ensure integrity.
These guidances state what but not how. Additionally, key stages of analysis that impact data integrity are omitted entirely. The aim of this book is to provide practical and detailed help on how to implement data integrity and data governance for regulated analytical laboratories working in or for the pharmaceutical industry.
It provides clarification of the regulatory issues and trends, and gives practical methods for meeting regulatory requirements and guidance.
Using a data integrity model as a basis, the principles of data integrity and data governance are expanded into practical steps for regulated laboratories to implement.
The author uses case study examples to illustrate his points and provides instructions for applying the principles of data integrity and data governance to individual laboratory needs.
This book is a useful reference for analytical chemists and scientists, management and senior management working in regulated laboratories requiring either an understanding about data integrity or help in implementing practical solutions.
Consultants will also benefit from the practical guidance provided.
BIC:
PDD Scientific standards, PNF Analytical chemistry, TDCW Pharmaceutical technology