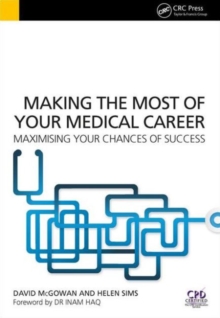 Making the most of your medical career : maximising your chances of success
1846199751 / 9781846199752
Stock expected by 11/04/2020
' Once you are in medical school you will need to apply for Foundation training; once in Foundation training you will need to apply for core or specialty training; if you go through core training, you will need to apply for specialty training; and once in specialty training, you will need to apply for consultancy posts.
Knowing about this allows you to prepare for the next application, and enables you to show yourself in the best light in the application process...The majority of medical careers are becoming increasingly competitive, with many specialties subject to competition ratios of over 10 applicants for each place...' David McGowan and Helen Sims ' This book provides an excellent and easy-to-read path to making the most of your medical career starting as a student...and a ready source of really useful hints and tips that will help anyone reading this book maximise their personal and professional development.' From the Foreword by Dr Inam Haq Want to optimise your chances of success? Take a fresh look at the clinical world. Medical careers have changed and learning how to play the game is as important as being the best in your field.
This inspirational new guide considers your medical career from a wide-ranging perspective, encouraging a positive, early outlook. On a highly practical note, it acts as a comprehensive information source, covering all aspects of job applications and medical careers.
On a personal note the book fosters a complete reassessment of the way you view your working life.
It offers fresh ideas to help identify important opportunities to improve your CV - taking opportunities when you can whilst making the most of what you have. Easy to read and conversational in tone, it details invaluable ideas on developing your portfolio and innovative methods to successfully market yourself, alongside sound approaches to the challenges and intricacies of the modern medical career.
BIC: