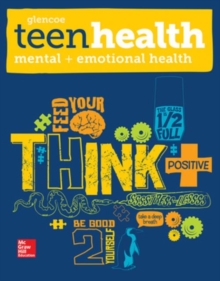 Teen Health, Mental and Emotional Health
0076640493 / 9780076640492
Usually dispatched within 4 weeks
211 x 272 mm, 220 grams 96 pages
Mental and Emotional Health* describes the impact of mental 'health problems.
The chapters help students to understand that mental health issues are health issues, 'and that these health problems can be treated.
In Chapter 1 students learn to understand and manage 'their emotions as well as the stressors that affect their lives.
In Chapter 2 students learn of the 'mental health disorders that affect teens and others, what types of treatments are available for each, 'and what to do if one of these disorders is recognized in the self or others.' *Each print module contains the same front matter section, titled Your Health and 'Wellness.
This content is relevant to the entire program. It teaches the 10 Health Skills that are the 'foundation of the Teen Health program. '
BIC:
YQNP Educational: Personal, social & health education (PSHE)