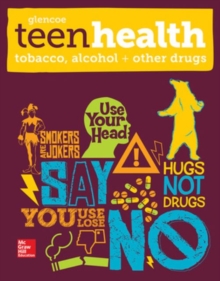 Teen Health, Tobacco, Alcohol, and Other Drugs
0076640469 / 9780076640461
Usually dispatched within 4 weeks
216 x 274 mm, 332 grams 136 pages
Tobacco, Alcohol, and Other Drugs* describes the risks associated with use of these substances.
The chapters also provide students with information on how they can avoid tobacco, alcohol and drug use, as well as what they can do to seek help for substance abuse problems.
The final chapter discusses the healthful way to use medicines.' *Each print module contains the same front matter section, titled Your Health and Wellness.
This content is relevant to the entire program. It teaches the 10 Health Skills that are the foundation of the Teen Health program.
BIC:
YQNP Educational: Personal, social & health education (PSHE)