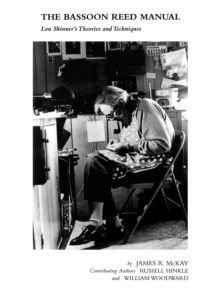 The bassoon reed manual : Lou Skinner's techniques
0253213126 / 9780253213129
The book that no bassoonist can live without.
Near the end of his life, Louis Skinner (America's master bassoon reedmaker) engaged author James McKay to help him document his techniques for making a variety of specialised and general purpose reeds for the bassoon and the contrabassoon.
Skinner's precious collection of historical reeds has been photographed, with a few particularly important examples illustrated in colour.
Step-by-step explanations of reedmaking techniques are complemented by photographs and drawings, making every procedure clear.
A chapter on tools does not present an onerous shopping list, but gives a thorough tour of Skinner's workbench, explaining the uses of various items and what can be used as substitutes.
Throughout, the emphasis is on giving practical advice, in clear and pleasant writing, not just giving steps to follow but explaining why they are important.
Finally, every effort has been made to make this book practical for use at the workbench - in a binding that will lie open readily and in print large enough to permit easy consultation when the reader's hands are occupied with cane and knives and glue and wire.
It is published in cooperation with the International Double Reed Society.
BIC: