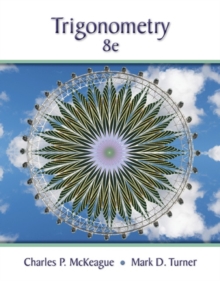 Trigonometry (Eighth edition International edition)
1305652223 / 9781305652224
624 pages : illustrations (black and white, and colour)
Gain a solid understanding of the principles of trigonometry and how these concepts apply to real life with McKeague/Turner's TRIGONOMETRY.
The book presents contemporary concepts in brief, manageable sections using current, detailed examples and interesting applications.
Captivating illustrations such as cycling, the Ferris wheel, and the human cannonball show trigonometry in action.
Unique Historical Vignettes offer a fascinating glimpse at how many of the central ideas in trigonometry began.
The text is easy to read, and important theorems and definitions are boxed so they can be quickly identified for study purposes.
BIC: