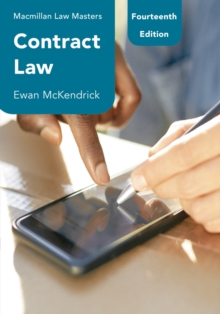 Contract law (Fourteenth edition)
1352012065 / 9781352012064
24 cm 460 pages : illustrations (black and white)
Postgraduate, Research & Scholarly Learn More
Undergraduate
Previous edition: London: Red Globe Press, 2019.
A comprehensive and bestselling textbook on Contract Law that covers core areas such as the formation of a contract, what goes into a contract, how to enforce a contract and much more.
The book takes a very practical approach to teaching Contract Law including real-world examples and 'Hot Topic' discussion points, illustrating how Contract Law can interact with other aspects of the core curriculum such as Tort Law.
This edition has been updated with important new developments in the field, such as on interpretation, and negotiating damages and an account of profits. Written by one of the leading authorities on the topic, this book retains a critical edge and a student-friendly focus.
It is essential reading for all students taking undergraduate and GDL/CPE courses in contract law.
BIC: