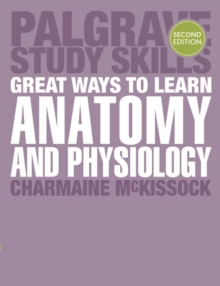 Great ways to learn anatomy and physiology (Second edition)
1137415231 / 9781137415233
208 pages : illustrations (black and white, and colour).
This highly visual text is the perfect companion for anyone studying anatomy and physiology.
Offering innovative techniques to help students with their learning, this user-friendly, accessible study skills text is the perfect accompaniment to any course or textbook.
Complex processes are brought to life with imaginative diagrams and story lines which aid understanding, reinforce memory and also support students with memory, dyslexic or mathematical difficulties.
This second edition features a fully updated section on first aid, and brand new content on making posters and presentations.
BIC: