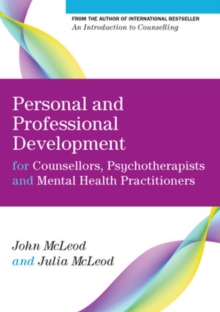 Personal and professional development for counsellors, psychotherapists and mental health practitioners
0335247334 / 9780335247332
24 cm xv, 250 pages : illustrations (black and white)
This book provides a comprehensive, accessible and research-informed approach to personal development issues associated with the role of a counsellor, therapist or mental health practitioner.
Written by leading authors in the field, the book is designed to help both trainees and experienced therapists to be more effective in their work with clients by: Deepening and consolidating their understanding of all aspects of personal and professional developmentMaking use of their personal strengths, resources and life experience Drawing on colleagues, mentors and the wider professional community as sources of learning, support and inspiration.
The first part of the book explains the nature of the personal and professional development issues that are experienced by therapists.
The second part provides a set of learning tasks that invite reflection on all aspects of therapist development."This engaging and accessible book reminds us that, like our clients, counsellors are works in progress.
Through its 10 lively chapters, John McLeod and Julia McLeod take us on a compelling journey of self-discovery.
En route, they invite us to press the pause button and reflect on our lives in all their messy complexity ...
Although written primarily for trainee counsellors, there is much here for the experienced therapist, supervisor, group leader or counselling course trainer to admire and to learn from."Therapy Today, July 2014"John and Julia McLeod have written a superb text that not only presents a strong and coherent case for the importance of personal development for therapists, but also provides a range of activities to stimulate the reader's own reflective development process.
A scholarly examination of the developmental path of the practitioner which is firmly grounded in research, this book is a rich personal development resource for students, practitioners and lecturers."Mark Widdowson, Lecturer in Counselling and Psychotherapy, University of Salford, UK"This is a great resource textbook for trainee practitioners, trainers, supervisors in counselling, psychotherapy and mental health - and for anyone interested in personal and professional development in the helping professions.
The breadth and depth of John and Julia McLeod's encyclopaedic knowledge is evident in this book.
Wise sages indeed, they offer 'voices of wisdom and reason' for those entering the helping professions.
Their guidance will help still the inner angst that is an inevitable part of practitioner training and working as a helper.
The book offers an excellent resource for counselling, psychotherapy and mental health trainers, with rich resources to inform student and tutor work.
I highly recommend this valuable addition to the resource and knowledge base."Lynne Gabriel, Associate Professor, York St John University, UK"A fantastic book!
This is a comprehensive, engaging and valuable resource that integrates theory and research in an accessible and relevant way.
This book approaches a complex and often poorly articulated facet of professional training both practically and effectively.
The personal learning tasks bring an added dimension to the book, inviting the reader on a journey of self-discovery and challenge.This book has relevance for a broad range of psychotherapeutic orientations and mental health roles and is an essential read for practitioners at all stages of their professional journey."Steff Revell, Lecturer, Counselling and Psychotherapy, University of Cumbria, UK"This book offers an invaluable resource for counselling trainers and students alike.
It succinctly maps out the terrain of personal and professional development and the importance of these concepts for practice.
As a counselling trainer, I found the exercises and learning tasks contained in the book an excellent source of ideas for encouraging student reflection.
As a practitioner, it reminded me of the importance of attending to my own 'stuff', of the continuing process of learning to be more in touch with my flawed humanity such that I can be more available to my clients."Brian Rodgers, Lecturer in Counselling, The University of Queensland, Australia
BIC:
JKSN2 Counselling & advice services, MMJ Clinical psychology