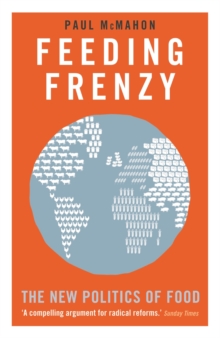 Feeding frenzy : the new politics of food
1781250359 / 9781781250358
20 cm 314 pages : illustrations (black and white), map (black and white)
Reprint. Originally published: 2013.
This subject is as big as they come: the world's food supply. Written for a popular audience, Feeding Frenzy traces the history of the global food system and reveals the underlying causes of recent food shortages and price spikes - what the media has labelled a 'world food crisis'.
As the tectonic plates of the world food system shift, forces are being unleashed that threaten the security of billions.
Food-producing countries are banning exports to benefit their own citizens, even if this means that other countries starve.
Most worryingly, they are acquiring huge areas of under-utilised farmland in poorest countries to grow crops for export, often at the expense of local communities.
Some of the trends identified in this book are unstoppable.
But McMahon also outlines actions that can be taken to lower the risks of conflict and to produce fairer outcomes.
It is possible to envisage a more benign scenario, associated with a shift to a sustainable and productive form of agriculture.
Which path will the world choose?
BIC: