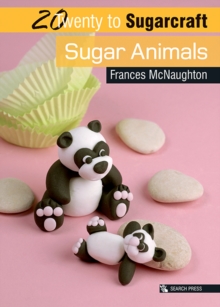 1844484785 / 9781844484782
Frances McNaughton shows how to make 20 cute and funny sugar animals for cake decorating using sugarpaste and a few simple tools and techniques.
First we learn about the simple shapes that are the basis for all the animals, and the few basic tools that are needed.
Then it is staight on to making elephants, monkeys, pandas, lizards, dolphins, kangaroos and much more.
The constituent parts of the animals are shown with the step by step instructions, and annotated for clarity, then each finished animal is pictured in all its splendour.
Animal lovers will be thrilled to see any of these appealing creatures on top of a celebratory cake.
BIC: