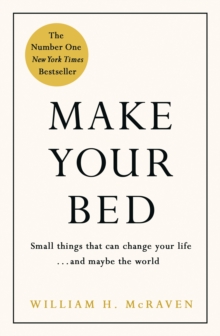 Make your bed : little things that can change your life...and maybe the world
0718188861 / 9780718188863
Originally published: New York: Grand Central Publishing.
MAINTAIN POSITIVE DAILY HABITS FOR A HEALTH MIND WITH THE INCREDIBLE No. 1 NEW YORK TIMES BESTSELLER'SUPERB, SMART, AND SUCCINT' FORBES_____________Struggling to find structure in your life?
Finding yourself lacking motivation?Start by making your bed. In 2014, Admiral William H. McRaven addressed the graduating class of the University of Texas, in a video which immediately went viral. He shared the 10 life lessons he had learned during his Navy Seal training that helped him overcome challenges not only in his long Naval career, but also throughout his life. In Make Your Bed, he builds on these principles by sharing inspiring tales from his own life and those around him in the military, explaining how anyone can use these basic lessons to change themselves for the better. Maintaining routine and structure is more important than ever in the age of home working, flexi-time and the general busyiness of life.
Learn exactly how to master the essential daily habits that will ensure your mind stays both calm and ready for the day ahead. Written with great humility and optimism, this timeless book provides simple and universal wisdom, practical advice, and words of encouragement that will inspire readers to achieve. _____________'A book to inspire your children and grandchildren to become everything that they can' The Wall Street Journal
BIC: