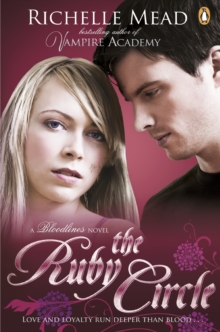 The ruby circle
014136131X / 9780141361314
Bloodlines: The Ruby Circle is the epic conclusion to Richelle Mead's bestselling Bloodlines series , set in the world of Vampire Academy - NOW A MAJOR FILM.
Sydney Sage is an Alchemist, one of a group of humans who dabble in magic and serve to bridge the worlds of humans and vampires.
They protect vampire secrets - and human lives. After their secret romance is exposed, Sydney and Adrian find themselves facing the wrath of both the Alchemists and the Moroi in this electrifying conclusion to Richelle Mead's New York Times bestselling Bloodlines series.
When the life of someone they both love is put on the line, Sydney risks everything to hunt down a deadly former nemesis. Meanwhile, Adrian becomes enmeshed in a puzzle that could hold the key to a shocking secret about spirit magic, a secret that could shake the entire Moroi world . . . Praise for Richelle Mead:'Exciting, empowering and un-put-downable.' MTV's Hollywood Crush'We're suckers for it!' - Entertainment WeeklyAlso available in the Bloodlines series:Bloodlines (Book 1)Bloodlines: The Golden Lily (Book 2)Bloodlines: The Indigo Spell (Book 3)Bloodlines: The Fiery Heart (Book 4)Bloodlines: Silver Shadows (Book 5)Discover where the story began in the Vampire Academy series:*NOW A MAJOR FILM*Vampire Academy (Book 1)Vampire Academy: Frostbite (Book 2) Vampire Academy: Shadow Kiss (Book 3)Vampire Academy: Blood Promise (Book 4)Vampire Academy: Spirit Bound (Book 5) Vampire Academy: Last Sacrifice (Book 6)www.richellemead.com Facebook.com/VampireAcademyNovelsFacebook.com/BloodlinesBooks
BIC: