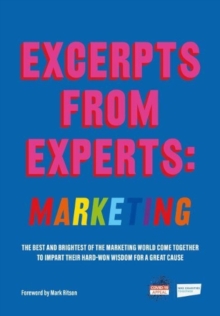 Excerpts from Experts: Marketing : The best and brightest of the marketing world come together to impart their hard-won wisdom for a great cause
191353202X / 9781913532024
'Excerpts from Experts - Marketing' is a compendium of insight, advice and anecdotes from more than 200 of the leading names in marketing.
These wonderful people have generously contributed their time and wisdom to raise money in aid of NHS Charities Together.
Whether you're an aspiring graduate, experienced professional, marketing guru, or just vaguely interested in the magical world of brands and marketing, this book is a must read.
BIC: