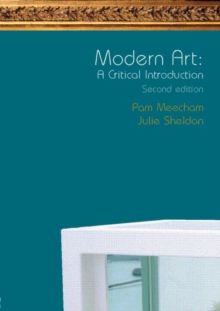 Modern art : a critical introduction (2nd ed)
0415281946 / 9780415281942
Usually dispatched within 2 weeks
25 cm xi, 354 p., [16] p. : ill. (some col.)
research & professional Learn More
academic/professional/technical
Modern Art: a critical Introduction provides a comprehensive introduction to modern and contemporary art.
In this fully revised and updated second edition, Pam Meecham and Julie Sheldon bring together theory, history and the art works themselves to help students understand how and why meanings are formed in relation to art practices in the modern period.
This innovative textbook addresses: * the historical and contemporary contexts for understanding modern art movements; * the main developments in art interpretation, from Kant to poststructuralism; * a wide range of art genres, including painting, sculpture, photography, installation and performance art; * visual art practices both inside and outside the art museum.
The new edition has been restructured to make the key themes as accessible as possible, and updated to include many more examples of recent art practice. Features of the new edition include: * individual chapters exploring key themes of the modern era, such as the relationship between artists and galleries, the politics of representation, the changing nature of self expression, the public monument, nature and the urban, the 'machine aesthetic', performance art and artistic figurations of the body; * an expanded glossary providing definitions of theoretical and critical terms; * over ninety illustrations including twenty-nine in colour of the art works discussed.
Modern Art: a critical introduction is a lively and accessible account of modern art and its histories that will be an invaluable resource for students.
BIC:
3JJ 20th century, ACX History of art & design styles: from c 1900 -