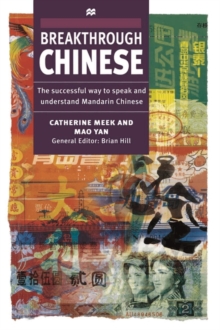 033354692X / 9780333546925
Usually dispatched within 2 weeks
advanced secondary Learn More
further/higher education
Reprint. Cover and spine title: Breakthrough Chinese. In case 26 x 18 cm.
A new approach to the teaching of Mandarin Chinese, this course concentrates on the essentials needed for everyday situations while travelling in China, and provides a basis for further study.
Based on authentic recordings made on location in Beijing, it exposes the learner to the genuine sound of the language, supported by carefully explained notes and scripted studio recordings with many practice activities.
Unlike other Mandarin Chinese courses it focuses heavily on listening and speaking skills, backed up by simple, clear but short grammar explanations and exercises.
One page in each of the 15 units is devoted to providing background detail about China and the Chinese.
Pinyin is used throughout rather than the Chinese characters.
This course is intended for individuals for self-study, and as a Further Education, Adult Education and Higher education adoptable text.
BIC: