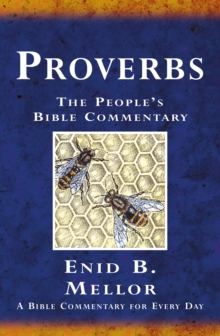 Proverbs : A Bible Commentary for Every Day
1841010715 / 9781841010717
Stock expected by 06/06/2020
130 x 198 mm, 271 grams 256 pages
'As a door turns on its hinges, so does a lazy person in bed.' 'Do not boast about tomorrow, for you do not know what a day may bring.' 'Pleasant words are like a honeycomb, sweetness to the soul and health to the body.' One of the world's most famous books of wisdom, Proverbs is a collection of poems, wise sayings and short parables, showing how to apply godly principles to daily life.
The 31 chapters cover everything from business ethics to family life, and while some parts speak directly to young people, others advise the leaders of the land.
From first to last, however, we are reminded that the source of true wisdom and understanding is knowning God himself The People's Bible Commentary (PBC) is designed for all those who want to study the scriptures in a way that will warm the heart as well as instruct the mind.
BIC:
HRCG1 Biblical commentaries, HRCG9 Bible readings, selections & meditations