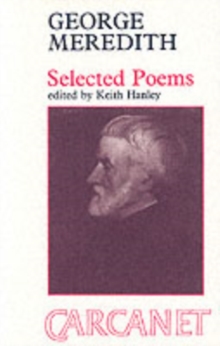 0856354163 / 9780856354168
Stock expected by 19/09/2020
140 x 220 mm, 151 grams 180 pages
George Meredith (1828-1909) is best known as the author of The Egoist and Diana of the Crossways.
His poetry, however, notably the poems from Modern Love, is emerging from long eclipse, and this selection reveals the diversity and originality of one of the most influential writers of his time. `His note was trenchant, turning kind,' Thomas Hardy wrote of him.
The trenchancy was characteristic of his critical perspective on an age disoriented by a prosperity which had entailed severe moral and spiritual losses.
The kindness was extended to those writers in whom he perceived excellence or the promise of it.
Though he read for the bar, he turned for his living to journalism and to reading for the publishers Chapman and Hall.
It was in these capacities that his influence was felt. In his introduction to this edition, Keith Hanley, Lecturer in English at Lancaster University, describes Meredith's distinctive naturalism and shows how the poetry is `designed to amplify and frame' these human values. `Only a few read my verse, and yet it is that for which I most care,' he said in old age.
It is in his poetry that he invested most of himself, and over a very long period. Thomas Hardy, Robert Lowell and Tony Harrison are just three poets who have learned something from his emotional complexity and formal control. And the `Meredithian sonnet' has certainly not been exhausted as a modern form.
BIC: