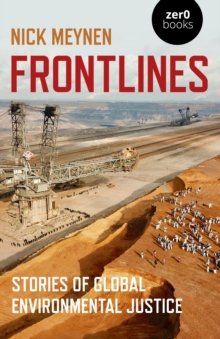 Frontlines : stories of global environmental justice
1789041929 / 9781789041927
Every unpacked frontline is one cutting edge of an economic system and political ideology that is destroying life on earth.
Revealing our ecosystems to be under a sustained attack, Nick Meynen finds causes for hope in unconventional places. 'In his wide-ranging journalism and writing, Nick Meynen has been vividly mapping struggles for justice around the world.
His new book is a rich collection of the human stories of those struggles, from resistance to mining in India and Greece, to land grabbing in Uganda, to a landmark climate lawsuit in the Netherlands.
The book harnesses the power of lived experience to bring our most urgent, high-stakes policy debates to life, and it deserves a wide international audience.' Naomi Klein, author of The Shock Doctrine and This Changes Everything: Capitalism vs. the Climate
BIC:
JPQB Central government policies, RND Environmental policy & protocols