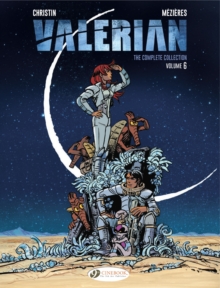 Valerian : the complete collectionVol. 6
1849184119 / 9781849184113
Usually dispatched within 4 weeks
29 cm 192 pages : chiefly illustrations (colour)
Translated from the French.
With volumes 16 to 18 collected here, we find Valerian and Laureline suddenly rich beyond their wildest dreams, and this new situation brings the differences in their personalities in stark contrast: where Laureline remains true to herself and her love of life, Valerian finds himself idle and disoriented.
Fortunately, when the former is kidnapped in Hostages of Ultralum, the son of Galaxity earns back his status as a hero and saviour.
In the direct sequel, Orphan of the Stars, the united couple faces adversity and the hardships of parenthood (even temporary) together.
Finally, In Uncertain Times brings them back on the trail of the vanished future Earth, paving the way for the last cycle and the saga's conclusion.
With, as always, essays by Stan Barets, here on the alien cast of the series and the authors' various creations for the year 2000.
BIC: