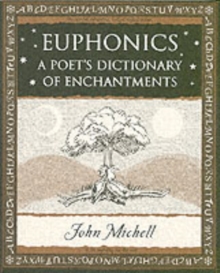 Euphonics : a poet's dictionary of sounds
1904263437 / 9781904263432
One of the oldest and most secret magical arts of the ancient world, Euphonics is the study of the natural meanings of sounds in words and language. First discussed over 2,000 years ago in Plato's Cratylus, it has long been used by sorcerers worldwide to weave their sonic spells.
Learn about the deadly effects of 'D', the ghastly glint of 'G', the jolly jangle of 'J', the binary bulge of 'B' and seductive slippery 'S'.
This deceptively simple book, by leading wizard John Michell, and illustrated by Fleet Street cartoonist Merrily Harpur, is the best manual an apprentice could wish for in casting these powerful spells.WOODEN BOOKS are small but packed with information. "Fascinating" FINANCIAL TIMES. "Beautiful" LONDON REVIEW OF BOOKS. "Rich and Artful" THE LANCET. "Genuinely mind-expanding" FORTEAN TIMES. "Excellent" NEW SCIENTIST. "Stunning" NEW YORK TIMES. Small books, big ideas.
BIC:
5AQ Interest age: from c 14 years, CF linguistics, WH Humour