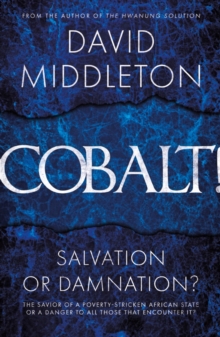 Cobalt!
1838593551 / 9781838593551
Stock expected by 13/06/2020
What's in a name? When a young geologist stumbles across what looks like to most a greyish rock with blue tints, he knows he has something precious on his hands.
Although it looks common, as soon as the name 'cobalt' is applied, it suddenly becomes eminently more valuable.
Valuable enough even to potentially be the salvation of a poor African state still recovering in the aftermath of a tsunami. And valuable enough to be the source of danger for all that come across it... Kevin Forsythe, an English civil servant and a Shakespearian scholar, has one ambition: to retire to a life of pink gin and solitude.
But when Pete, his young friend, shows him his rare find, it unintentionally sets in motion events that mean Kevin becomes the unlikely lynch-pin to the country's salvation.
Uncovering corporate greed and selfishness, international drug smuggling and terrorism, political corruption and the heart-breaking plight of desperately poor children, Kevin has no choice but to help.
With only Pete and a British consultant with a track record of being a reluctant hero to aid him, Kevin must weave through the political web of danger that has slowly spun around him before the fly in the ointment becomes the fly that gets snapped up.
BIC: