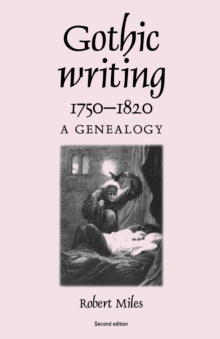 Gothic writing, 1750-1820 : a genealogy
0719060095 / 9780719060090
Stock expected by 21/12/2019
postgraduate Learn More
research & professional
undergraduate
In this study Robert Miles uses the tools of modern literary theory and criticism to analyse Gothic texts.
Miles introduces the reader to contexts of Gothic in the 18th century, including its historical development and its placement within discourse and gender concerns of the period.
By using texts ranging from sensational novels such as "The Monk" and "The Mysteries of Udolpho", poetic variations on Gothic by Coleridge, Shelley and Keats, to satirical works on the theme by Jane Austen, Miles presents an overview of Gothic literature.
By drawing extensively on the ideas of Michel Foucault to establish a genealogy,he brings Gothic writing in from the margins of "popular fiction", resituating it at the centre of debate about Romanticism.
BIC:
2AB English, 3JF c 1700 to c 1800, 3JH c 1800 to c 1900, DSBD Literary studies: c 1500 to c 1800, DSBF Literary studies: c 1800 to c 1900