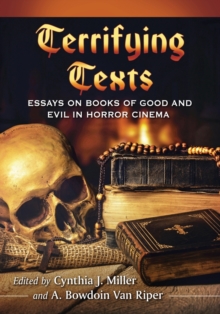 Terrifying Texts : Essays on Books of Good and Evil in Horror Cinema
1476671303 / 9781476671307
178 x 254 mm 171 pages, 45 photographs
From Faust (1926) to The Babadook (2014), books have been featured in horror films as warnings, gateways, prisons and manifestations of the monstrous.
Ancient grimoires such as the Necronomicon serve as timeless vessels of knowledge beyond human comprehension, while runes, summoning diaries, and spell books offer their readers access to the powers of the supernatural-but at what cost?? This collection of new essays examines nearly a century of genre horror in which on-screen texts drive and shape their narratives, sometimes unnoticed.
The contributors explore familiar American films like The Night of the Demon (1957), The Evil Dead (1981), The Prophecy (1995) and It Follows (2014), as well as such international films as Eric Valette's Malefique (2002), Paco Cabeza's The Appeared (2007) and Lucio Fulci's cult classic The Beyond (1981).
BIC: