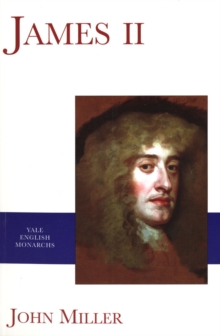 0300087284 / 9780300087284
postgraduate Learn More
research & professional
undergraduate
Previous ed.: London: Methuen, 1989.
James II (1633-1701) lacked the charisma of his father, Charles I, but shared his tendency to dismiss the views of others when they differed from his own.
Failing to understand his subjects, James was also misunderstood by them.
In this highly-regarded biography, John Miller reassesses James II and his reign, drawing on a wide array of primary sources from France, Italy, and Ireland as well as England.
Miller argues that the king had many laudable attributes--he was brave, loyal, honorable, and hard-working, and he was at least as benevolent toward his people as his father had been.
Yet James's conversion to Catholicism fueled the distrust of his Protestant subjects who placed the worst possible construction on his actions and statements.
Although James came to see the securing of religious freedom for Catholics in the wider context of freedom for all religious minorities, his people naturally doubted the sincerity of his commitment to toleration. The book explores James's relations with the state and society, focusing on the political, diplomatic, and religious issues that shaped his reign.
Miller discusses the human failings, the gulf of understanding between the king and his subjects, and the sheer bad luck that led to James's downfall.
He also considers the reasons for James's lack of interest in recovering his kingdom after his flight to France in 1688.
This revised edition of the book includes a substantial new foreword assessing recent work on the reign. "This is a first-class essay in historical biography. . . . It must displace all previous lives of James II."-J.
P. Kenyon, Observer
BIC:
1DBKE England, 3JD c 1600 to c 1700, BGH Biography: historical, political & military, HBJD1 British & Irish history, HBLH Early modern history: c 1450/1500 to c 1700