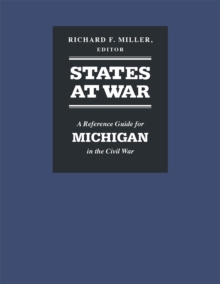 States at War : A Reference Guide for Michigan in the Civil War
0472131451 / 9780472131457
216 x 279 mm 312 pages, 1 map
Unlike most books about the Civil War, which deal with individual battles or the war at the national level, States at War: A Reference Guide for Michigan in the Civil War chronicles the actions of an individual state government and its citizenry coping with the War and its ramifications, from transformed race relations and gender roles, to the suspension of habeas corpus, to the deaths of over 10,000 Michigan fathers, husbands, sons, and brothers who'd been in action.
The book compiles primary source material-including official reports, legislative journals, executive speeches, special orders, and regional newspapers-to provide an exhaustive record of the important roles Michigan and Michiganders had in the War.
Though not burdened by marching armies or military occupation like some states to the southeast, Michigan nevertheless had a fascinating Civil War experience that was filled with acute economic anxieties, intense political divisions, and vital contributions on the battlefield.
This comprehensive volume will be the essential starting point for all future research into Michigan's Civil War era history.
BIC:
1KBBNG Michigan, 3JH c 1800 to c 1900, HBWJ American Civil War