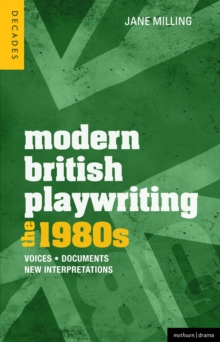 Modern British playwriting : voices, documents, new interpretations: The 1980s
1408129590 / 9781408129593
Stock expected by 19/04/2020
Professional & Vocational Learn More
Tertiary Education (US: College)
Modern British Playwriting: The 1980s equips readers with a fresh assessment of the theatre and principle playwrights and plays from a decade when political and economic forces were changing society dramatically.
It offers a broad survey of the context and of the playwrights and companies such as Complicite and DV8 that rose to prominence at this time.
Alongside this it provides a detailed examination based on fresh research of four of the most significant playwrights of the era and considers the influence they had on later work. The 1980s volume features a detailed study by four scholars of the work of four of the major playwrights who came to prominence: Howard Barker (by Sarah Goldingay), Jim Cartwright (David Lane), Sarah Daniels (Jane Milling) and Timberlake Wertenbaker (Sara Freeman).
Essential for students of Theatre Studies, the series of six decadal volumes provides a critical survey and study of the theatre produced from the 1950s to 2009.
Each volume features a critical analysis of the work of four key playwrights besides other theatre work from that decade, together with an extensive commentary on the period.
Readers will understand the works in their contexts and be presented with fresh research material and a reassessment from the perspective of the twenty-first century.
This is an authoritative and stimulating reassessment of British playwriting in the 1980s.
BIC:
2AB English, 3JJPL c 1970 to c 1980, AN Theatre studies, DSBH Literary studies: from c 1900 -, DSG Literary studies: plays & playwrights