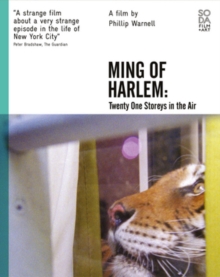 Ming of Harlem - Twenty One Storeys in the Air
Blu-ray (Blu-ray / with DVD - Double Play)
(U) Universal, suitable for all.
Documentary about the relationship between humans and wild animals kept as pets, focusing on Harlem resident Antoine Yates and Ming, his pet tiger.
Yates, who also owned an alligator called Al, bought the tiger as a cub.
However, in 2003 the fully-grown, three-year-old Ming attacked his owner which led to the authorities learning of the animal's existence.
Following treatment at hospital, Yates was investigated and charged with reckless endangerment and the possession of a wild animal.