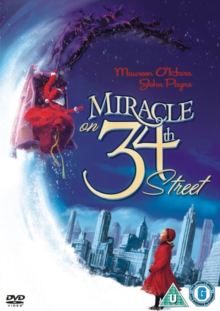 DVD (DVD / Special Edition)
(U) Universal, suitable for all.
George Seaton writes and directs this classic drama starring Edmund Gwenn and Maureen O'Hara.
Doris Walker (O'Hara), an executive at Macy's department store, believes in taking a common-sense approach to life and is consequently raising her daughter Susan (Natalie Wood) not to believe in Santa Claus.
This year however, the convictions of both mother and child are challenged when a kindly old man (Gwenn) is hired as the store Santa and insists that he is in fact the real thing.
No one believes him, some even think he's insane, but he is willing to go to court to prove his case.
The film won two Academy Awards for Best Supporting Actor (Gwenn) and Best Screenplay (Seaton).