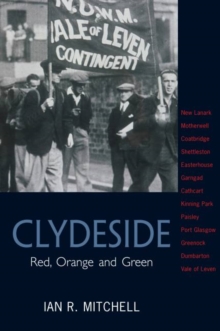 The Clyde : red, orange and green
1906307709 / 9781906307707
Ian R. Mitchell takes the reader on an urban promenade along the Clyde and finds its character is created from far more than the remnants of shipbuilding. "Clydeside" relates stories of conflicts, people and communities, while incorporating present-day walks in these oft-forgotten areas, to allow the reader to fully appreciate the culture and history.
Exploring more than just Glasgow itself, the book meanders from Coatbridge to Cathcart, Garngad to Greencock.
Proving there's far more to Paisley than a deceased weaving industry, more to Shettleston than the old mining days and more to Dumbarton than the Black Death, Mitchell depicts a largely unseen side to the diverse towns and villages along the Clyde.
From Robert Owen's New Lanark utopian experiment to the fascinating architecture of 'Greek' Thomson, here is a working-class history rich in political and industrial venture.
BIC:
1DBKSC Central Scotland, HBJD1 British & Irish history, HBTB Social & cultural history