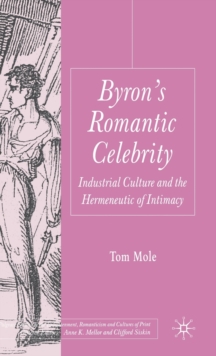 Byron's romantic celebrity : industrial culture and the hermeneutic of intimacy
1403999937 / 9781403999931
Stock expected by 30/01/2020
postgraduate Learn More
research & professional
undergraduate
"Byron's Romantic Celebrity" offers a new history and theory of modern celebrity.
It argues that celebrity is a cultural apparatus that emerged in response to the Romantic industrialization of print and culture and that Lord Byron should be understood as one of its earliest examples and most astute critics.
Under that rubric, it investigates the often strained interactions of artistic endeavour and commercial enterprise, the material conditions of Byron's publications, and the place of celebrity culture in history of the self.
BIC:
DSBF Literary studies: c 1800 to c 1900 , DSC Literary studies: poetry & poets