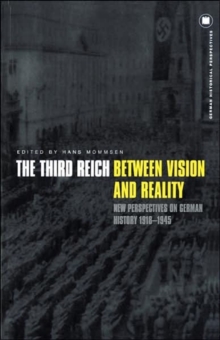 The Third Reich between vision and reality : new perspectives on German history, 1918-1945
1859736270 / 9781859736272
Usually dispatched within 4 weeks
Reprint. Originally published: 2001.
Professor Hans Mommsen, one of the world's leading experts on the history of the Third Reich, has gathered together a group of historians who are engaged in pioneering research into national socialism.
This book covers such topics as the Viennese background to Hitler's career; the development of fascist tendencies amongst the German population during the Weimar period; the nature of popular support for national socialism; the myth of the Nazi economic boom and the ideological concepts and political developments which culminated in the mass murder of European Jews.
It makes accessible to a wider public controversial arguments which have resulted from recent reassessments of Hitler's movement and his Nazi regime.
BIC:
1DFG Germany, 3JJG c 1918 to c 1939 (Inter-war period), 3JJH c 1939 to c 1945 (including WW2), HBJD European history, HBLW 20th century history: c 1900 to c 2000, JPFQ Fascism & Nazism