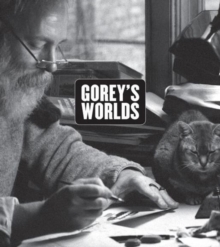 Gorey's worlds
069117704X / 9780691177045
24 cm 160 pages : illustrations (black and white, and colour)
Published on the occasion of the exhibition held at Wadsworth Atheneum Museum of Art, February 10th-May 6th, 2018.
An exploration of the artistic and cultural influences that shaped writer and illustrator Edward GoreyThe illustrator, designer, and writer Edward Gorey (1925-2000) is beloved for his droll, surreal, and slightly sinister drawings.
While he is perhaps best known for his fanciful, macabre books, such as The Doubtful Guest and The Gashlycrumb Tinies, his instantly recognizable imagery can be seen everywhere from the New Yorker to the opening title sequence of the television series Mystery! on PBS. Gorey's Worlds delves into the numerous and surprising cultural and artistic sources that influenced Gorey's unique visual language.
Gorey was an inveterate collector--he called it "accumulating." A variety of objects shaped his artistic mindset, from works of popular culture to the more than twenty-six thousand books he owned and the art pieces in his vast collection.
This collection, which Gorey left to the Wadsworth Atheneum Museum of Art upon his death, is diverse in style, subject, and media, and includes prints by Eugene Delacroix, Charles Meryon, Edvard Munch, and Odilon Redon; photographs by Eugene Atget; and drawings by Balthus, Pierre Bonnard, Charles Burchfield, Bill Traylor, and Edouard Vuillard.
As this book shows, these artistic pieces present a visual riddle, as the connections between them-to each other and to Gorey's works-are significant and enigmatic.
The essays in Gorey's Worlds also examine the artist's consuming passions for animals and ballet. Featuring a sumptuous selection of Gorey's creations alongside his fascinating and diverse collections, Gorey's Worlds reveals the private world that inspired one of the most idiosyncratic artists of the twentieth century. Exhibition Schedule: Wadsworth Atheneum Museum of Art, February 10 - May 6, 2018
BIC:
1KBB USA, AC History of art / art & design styles, ACXJ Art & design styles: from c 1960, AFJ Other graphic art forms, AGB Individual artists, art monographs, AGC Exhibition catalogues & specific collections, JFCA Popular culture