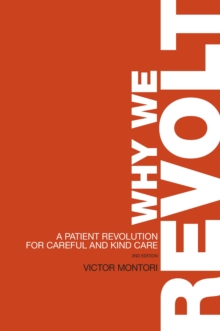 Why We Revolt : A Patient Revolution for Careful and Kind Care
1893005623 / 9781893005624
In a series of brief and personal essays, Why We Revolt describes what is wrong with industrial healthcare, how it has corrupted its mission, and how it has stopped caring. Montori rescues the language of patient care to propose a revolution of compassion and solidarity, of unhurried conversations, and of careful and kind care.

In this brave book, Dr. Montori channels George Orwell to expose the corruption and absurdity of health care. Filled with compassionate and clear-eyed observations, Why we Revolt will leave you fired up, no matter what side of the gurney you are on Julia Belluz, senior health correspondent at Vox.com.

We revolt because our health our very lives matter. Why We Revolt does not serve as a blueprint but as an inspiration for patients and clinicians who are ready to pry open the idea of ';healthcare' and make it about actual health and care.

This book is a necessary catalyst for conversations that will revolutionize patient care. Kerri Sparling, diabetes patient advocate and creator of SixUntilMe.com.

This marvelously optimistic book is an urgent and cogent call to action that is firmly rooted in direct experience of the harms inflicted, not only on patients but also on those who try to care for them, by the industrialization of contemporary healthcare. Iona Heath, medical doctor and writer, former president of the Royal College of General Practitioners.

This profoundly humanistic examination of what has gone wrong in medicine has the diagnosis just right. This book is for everyone who will ever be a patient, for every health professional, and for every administrator and policy-maker. Gordon Guyatt, physician and researcher, father of evidence-based medicine.

I went into medicine to interact with real, unique, emotive humans. Why We Revolt brings healthcare back to this primary love of and care for patients. Sara Segner, medical student.

Why We Revolt is a triumph. It speaks honestly and knowledgeably about the faults of ';industrial medicine,' but with a deep understanding of caring and of the clinic. Montori, a doctor, citizen, and poet, has produced a wonderful and meaningful book that deserves widespread attention. Don Berwick, physician, former Administrator of the Centers for Medicare and Medicaid Services, and President Emeritus of the Institute for Healthcare Improvement.

A thoroughly convincing, mobilizing, and supremely optimistic call to action for medical industry reform. -- Kirkus

A starred-review at Blue Ink says, Montori's call for a humanistic revolution is based on belief that reform is possible.

Samuel Finnikin in the British Journal of General Practice wrote, Beautifully written, with an elegantly simple and though-provoking message, I recommend it wholeheartedly, and, once you have read it, pass it on to someone else. We need a change in health care, and this may be the answer.
BIC: