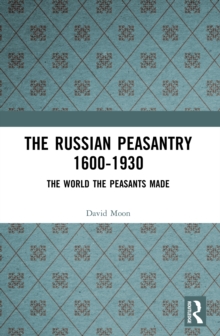 The Russian peasantry, 1600-1930 : the world the peasants made
0582095077 / 9780582095076
Usually dispatched within 4 weeks
Offers a definitive survey of peasant society in Russia between 1600 and 1930, and presents a fresh perspective on the history of Russia itself.
The text explores all aspects of peasant life including the rural economy, peasant households, village communities and protest against the landowning elite.
It discusses the social, economic, political and cultural impact of the abolition of serfdom in 1861 and the Revolutions of 1905 and 1917.
BIC:
1DVUA Russia, 3J Modern period, c 1500 onwards, HBJD European history, HBLH Early modern history: c 1450/1500 to c 1700, HBLL Modern history to 20th century: c 1700 to c 1900, HBLW 20th century history: c 1900 to c 2000, HBTB Social & cultural history, JFSC Social classes, JFSF Rural communities