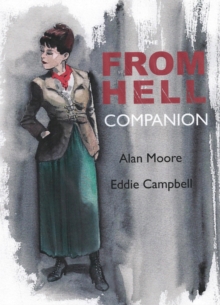 The From hell companion
0861661842 / 9780861661848
The From Hell Companion is a fascinating read of almost 100,000 words and the same page size as From Hell itself, with illustrative material on every spread.
The main thread in it is a selection of the best of Alan Moore's actual script sequences but this is supported with a generous selection of Moore's thumbnail sketches from his private notebooks for individual pages.
Includes commentary from Eddie Campbell and two 16 page colour sections featuring brand new artwork.
All arranged in narrative order, the reader will feel they have read From Hell from a fresh perspective.
BIC: