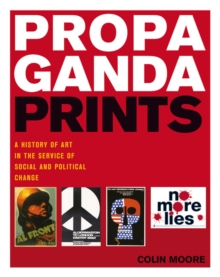 Propaganda prints
1408105918 / 9781408105917
Stock expected by 25/11/2019
29 cm 200 p. : ill. (chiefly col.), ports. (chiefly col.)
Propaganda Prints reviews the history, cultural diversity and artistic legacy of art produced in the service of social and political change from ancient times to the present day.
The author presents the arts of state control, of opposition, of revolution, of advertising, politics and self-promotion in their historical contexts, with three hundred images to evoke some of the dreams and concerns which have driven humanity through the last five thousand years.
The Ancient Mesopotamians are there with the Romans, the Crusaders, the Normans, the Victorians, the Suffragettes, the Nazis and the Hippies.
The American, French, Russian, Mexican, Chinese and Cuban revolutions all contribute as do many, far too many, wars.
From Gutenberg's printing press to You Tube, from Alexander to Obama, this review of propaganda art reflects the best and the worst of us, and offers the pictures by way of consolation.
BIC:
AC History of art / art & design styles, AFH Prints & printmaking, JPVN Propaganda