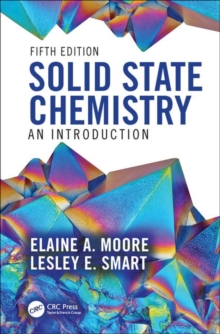 Solid state chemistry : an introduction (Fifth edition)
0367135728 / 9780367135720
442 pages : illustrations (black and white)
"A comprehensive guide to solid-state chemistry which is ideal for all undergraduate levels.
It covers well the fundamentals of the area, from basic structures to methods of analysis, but also introduces modern topics such as sustainability." Dr. Jennifer Readman, University of Central Lancashire, UK"The latest edition of Solid State Chemistry combines clear explanations with a broad range of topics to provide students with a firm grounding in the major theoretical and practical aspects of the chemistry of solids." Professor Robert Palgrave, University College London, UKBuilding a foundation with a thorough description of crystalline structures, this fifth edition of Solid State Chemistry: An Introduction presents a wide range of the synthetic and physical techniques used to prepare and characterise solids.
Going beyond this, this largely nonmathematical introduction to solid-state chemistry includes the bonding and electronic, magnetic, electrical, and optical properties of solids.
Solids of particular interest-porous solids, superconductors, and nanostructures-are included.
Practical examples of applications and modern developments are given.
It offers students the opportunity to apply their knowledge in real-life situations and will serve them well throughout their degree course. New in the Fifth EditionA new chapter on sustainability in solid-state chemistry written by an expert in this fieldCryo-electron microscopyX-ray photoelectron spectroscopy (ESCA)Covalent organic frameworksGraphene oxide and bilayer grapheneElaine A.
Moore studied chemistry as an undergraduate at Oxford University andthen stayed on to complete a DPhil in theoretical chemistry with Peter Atkins.
Aftera two-year postdoctoral position at the University of Southampton, she joined theOpen University in 1975, becoming a lecturer in chemistry in 1977, senior lecturerin 1998, and reader in 2004.
She retired in 2017 and currently has an honorary positionat the Open University.
She has produced OU teaching texts in chemistry forcourses at levels 1, 2, and 3 and written texts in astronomy at level 2 and physicsat level 3.
She was team leader for the production and presentationof an Open University level 2 chemistry module delivered entirely online.
Sheis a Fellow of the Royal Society of Chemistry and a Senior Fellow of the HigherEducation Academy.
She was co-chair for the successful Departmental submissionof an Athena Swan bronze award. Lesley E. Smart studied chemistry at Southampton University, United Kingdom.
After completing a PhD in Raman spectroscopy, she moved to a lectureship at the(then) Royal University of Malta.
After returning to the United Kingdom, she tookan SRC Fellowship to Bristol University to work on X-ray crystallography.
From1977 to 2009, she worked at the Open University chemistry department as a lecturer,senior lecturer, and Molecular Science Programme director, and she held an honorarysenior lectureship there until her death in 2016.
At the Open University, she was involved in the production of undergraduatecourses in inorganic and physical chemistry and health sciences.
She served on the Council of the Royal Society of Chemistry and as the chairof their Benevolent Fund.
BIC: