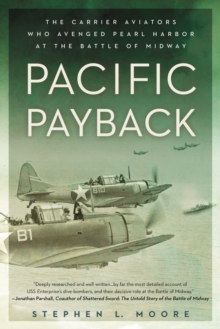 Pacific payback : the carrier aviators who avenged Pearl Harbor at the Battle of Midway
0451465539 / 9780451465535
23 cm 448 pages : illustrations (black and white)
Sunday, December 7, 1941, dawned clear and bright over the Pacific.
But for the Dauntless dive-bomber crews of the USS Enterprise returning to their home base on Oahu, it was a morning from hell.
Flying directly into the Japanese ambush at Pearl Harbour, they lost a third of their squadron and witnessed the heart of America's Navy, broken and smouldering on the oil-slicked waters below.
The next six months, from Pearl Harbour to the Battle of Midway, a dark time during which the Japanese scored victory after victory, this small band of aviators saw almost constant deployment.
BIC:
1KBB USA, 3JJH c 1939 to c 1945 (including WW2), HBJK History of the Americas, HBJM Australasian & Pacific history, HBLW 20th century history: c 1900 to c 2000, HBWQ Second World War