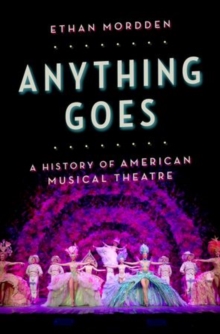 Anything goes : a history of American musical theatre
0199892830 / 9780199892839
Stock expected by 04/04/2020
24 cm 400 pages : illustrations
After six volumes on the musical's history, decade by decade from the 1920s through the 1970s, Ethan Mordden takes an entirely fresh look at the musical, from The Beggar's Opera to Wicked.
Looking at the Star Comic, the Sweetheart Heroine, the war between musical comedy and operetta, the rise of the sexy story in the 1920s, the wedding of ballet and hoofing in the 1930s, the Oklahoma! and Carousel "musical play" in the 1940s, the Novelty Star in the 1950s, and otherdevelopments, Mordden takes us from George Gershwin to Ethel Merman to Jerome Robbins to the director-choreographer and the offbeat contemporary show: Porgy and Bess, Gypsy, Fiddler on the Roof, Chicago, A Chorus Line, Grand Hotel, Grey Gardens, Rent.
In his trademark style that is at once scholarly, witty, and conversational, Mordden emphasizes not only the writing of musicals but the performing of them, taking the reader virtually into the theatre to experience what a great show is like, whether Victor Herbert's The Red Mill or Stephen Sondheim's Follies.
Considering the development of dance, the author follows it from zany hoofing in the nineteenth century through the tap "combinations" of the 1920s and the injection of ballet and moderndance in the 1930s and 1940s.
Fred Astaire, George Balanchine, Agnes de Mille, Michael Kidd, Bob Fosse, Gwen Verdon: theirs was a time when dance seemed as crucial as music by Richard Rodgers or lyrics by Betty Comden and Adolph Green.
Mordden examines also the changing role of the star, noting howsuch early-twentieth-century headliners as Fred Stone seldom varied their portrayals, whether as the Scarecrow in The Wizard of Oz or Little Red Ridinghood's fatherly guardian in The Stepping Stones.
But Ethel Merman turned stardom inside out in Gypsy, acting her way through a character who was selfish, fierce, and destructive, and today's stars are versatile as a rule.
From "ballad opera" and burlesque to the sometimes indescribable titles of today, Anything Goes tells where the musical camefrom and where it has been heading ever since. A special feature of the book is the extremely detailed discographical essay, a guide for aficionado and student alike in exploring the recorded archives.
BIC: