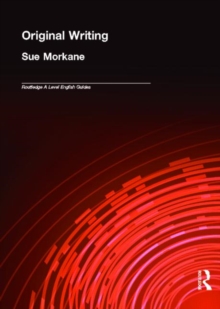 0415319129 / 9780415319126
Usually dispatched within 4 weeks
Routledge A Level English Guides equip AS and A2 Level students with the skills they need to explore, evaluate and enjoy English.
Books in the series are built around the various skills specified in the assessment objectives (AOs) for all AS and A2 Level English courses.
Focusing on the AOs most relevant to their topic, the books help students to develop their knowledge and abilities through analysis of lively texts and contemporary data.
Each book in the series covers a different area of language and literary study, and offers accessible explanations, examples, exercises, summaries, a glossary of key terms and suggested answers. Original Writing: *provides students with the practical skills they need to write confidently and effectively for different purposes and audiences *examines the conventions and styles of different types of original writing, such as writing to entertain, writing to inform and writing to persuade *looks at a wide range of examples of successful writing, including extracts from The Office, Health Education leaflets, Kerrang! and students' own work *includes a guide to planning and writing commentaries *explores problematic areas and includes advice from experts in a range of areas, from radio to song writing. Written by an experienced teacher, author and AS and A2 Level examiner, Original Writing is an essential resource for students of AS and A2 Level.
BIC:
2AB English, 4KL Designed / suitable for A & AS Level, CJB Language teaching & learning material & coursework, CJCW Writing skills