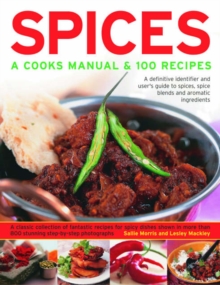 Spices : a cook's manual and 100 recipes
0754817180 / 9780754817185
Usually dispatched within 2 weeks
Reprint. Originally published: as The new guide to spices. London: Hermes House, 1998.
Spices have a colourful and extraordinary history - exotic and valuable prizes that have been sought and fought over for thousands of years.
Enthusiasm for spicy food is a world-wide phenomenon and today, spices play a huge part in almost every cuisine with ever more interesting and unusual spices becoming available.
This handy guide is a comprehensive reference to the world of spices, with authoritative information on all the common and lesser-known varieties.
The introductory section provides straightforward, easy-to-follow instructions on preparation and cooking techniques as well as useful information on containers and equipment.
The full-colour A-Z index of 50 spices and aromatic ingredients shows each in all its various forms - whole, ground, dried or fresh - and includes facts about its history, origins, and medicinal and culinary uses.
In addition, there are illustrated recipes for over 35 spice blends, from Apple Pie Spice to Kashmiri Masala.
The second part of the book offers over 100 classic and contemporary step-by-step recipes from all over the world using both spices and spice mixtures. A section on using spices in the home shows you how to make scented gifts and decorations, and features recipes for aromatic cooking oils, vinegars and a variety of drinks. "The Cook's Guide to Spices" is the only book on identifying, preparing, using and cooking with spices that you will ever need.
BIC: